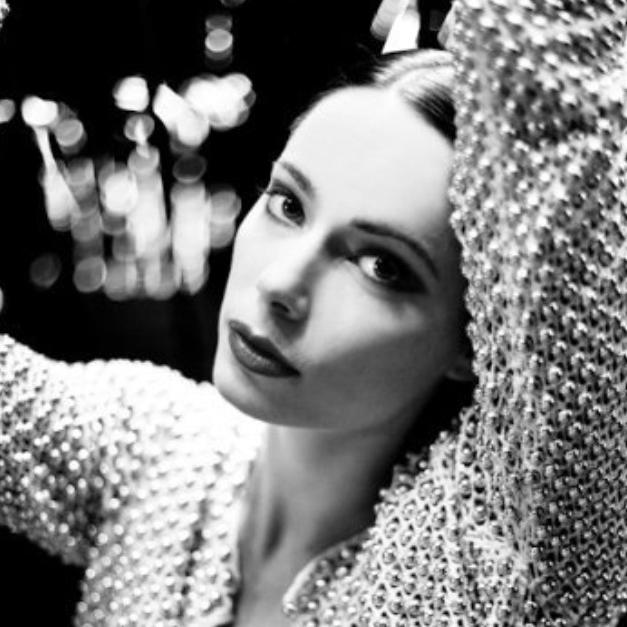 a sexuality which is burnished by familiarity, and one which is alluring, mysterious and, ultimately, beyond reach
– Luke Jennings, The Observer [read full article here]
---
Watching her perform, you're struck by the blazing expressiveness of the lines she draws and by the absolute absence of any barrier between dancer and dance.
– Luke Jennings, The Observer [read full article here]
---
10-word biography
Jennifer White is a dancer, performer, choreographer and movement coach.
---
150-word biography
Jennifer White graduated from Rambert School of Ballet and Contemporary in 2005 and joined The National Dance Company of Wales. In 2006, she was nominated for the Critics' Circle National Dance Awards for Emerging Artist. In 2007 she was highlighted as a breakthrough artist in The Observer's Hot List. Since, she has toured internationally with Hofesh Shechter Company, Russell Maliphant Company, Kylie Minogue, and Sarah Brightman; performed in David McVicer's Aida at the Royal Opera House and with The Hurly Burly Show in London's West end. She has  choreographed and performed in videos for Adele and Tom Vek; choreographed and performed with Basement Jaxx at the Barbican; appeared onscreen in Anna Karenina (2012) choreographed by Sidi Larbi Cherkaoui. She has been coaching and doubling for Elizabeth Olsen in movement for Avengers: Age of Ultron and Captain America: Civil War. She lives and works in London, has taught at Rambert School throughout her career, and has most recently been touring Sidi Larbi's show 'Milonga' and will be returning to work with BalletBoyz on 'Young Men next month.
---
300-word biography
---
Chronology
Movement Coach and Movement Double to Elizabeth Olsen in 'Captain America: Civil War'
Movement Direction for LIBERTY LONDON SS16 -The Silk Road
Dancer for 'Milonga' Choreographed by Sidi Larbi Cherkaoui
Dancer for BalletBoyz:'Young Men' Choreographed by Ivan Perez Performed at Sadler's Wells January 2015
Movement Coach to Elizabeth Olsen for Joss Whedons 'Avengers: Age of Ultron'(2015)
Dancer for Kylie Minogue: SleepWalker Film for 'Kiss me once' Tour 2014
Dancer for Argos Commercial September 2014
Dancer on ITV Mr Selfridges Season 1&2 2014
Dancer for Sarah Brightman's 'DreamChaser' tour May 2013 – February 2014
Choreographer and Performer in Castrol Edge Titanium Promotional Film January 2014.
Performance at CERN for Castrol Edge Titanium March 2014
Dancer for Katy Perry 'Unconditionally' at Wembley Arena for The X-Factor Final December 2013.
Dancer in Coco CHANEL Mademoiselle August 2013
Dancer for Russell Maliphant 'The Rodin Project' September 2011- February 2013
Dancer for Kylie Minogue for The Royal Variety Performance at The Albert Hall November 2012
Dancer for Kylie Minogue for Strictly Come Dancing at Wembley Arena November 2012
Dancer for James Cousins at Sadler's Wells August 2012
Dancer and Singer for The Hurly Burly Show The Duchess Theatre July 2012
Model for 'ALICE' Temperley Campaign; Photographed by Matilda Temperley 2012
Dancer for Joe Wrights Anna Karenina Film 2012
Dancer on The Voice April 2012
Dancer Lucazade Poster Campaign Feburary 2012
Choreographer and Performer with Basement Jaxx v's metropole Orkest at The Barbican Centre  July 2011
Choreographed and Performed in Tom Vek 'Aroused' Music Video June 2011
Dancer for Tinchy Stryder UEFA CUP FINAL Wembley Stadium May 2011
Dancer and Singer for The Hurly Burly Show The Garrick Theatre March 2011
Choreographer and Performer for a BBC Ident February 2011
Dancer for Kylie Minogue Aphrodite Promotional Tour Oct 2010- January 2011
Dancer in Kylie Minogue 'Better Than Today' Music Video November 2010
Choreographer and Performer for Adele 'Rolling in the Deep' Music Video September 2010
Dancer in Acura Car commercial for Russell Maliphant August 2010
Dancer for The Royal Opera House 'Aida' March 2010
Dancer and Singer for The Hurly Burly Show The Leicester Square Theatre February 2010
Dancer in Cherly Cole '3Words ft. Will.I.Am' Music Video November 2009
Dancer for Hofesh Shechter Company 'Cult' and 'In Your Rooms' May 2008-June 2009
Dancer at The Wales Millenium Centre for 'Seven Deadly Sins' Opera April 2007
Nomination for 'Emerging Young Performer' by The Critics Circle National Dance Awards 2006
Dancer at The National Dance Company of Wales March 2005-May 2008
Performing with Ross Mckim in Moving Visions 2003 and 2004
Trained at Rambert School of Ballet and Contemporary September 2002- June 2005
Trained at Central School of Ballet Associates 2001-2002
Trained at Collective Dance and Drama 1990-2001
---
Showreel